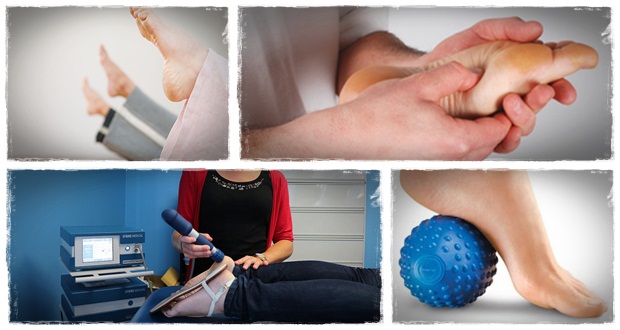 Overview
There are many diagnoses within the differential of heel pain; however, plantar fasciitis is the most common cause of heel pain for which professional care is sought. Approximately 10% of the United States population experiences bouts of heel pain, which results in 1 million visits per year to medical professionals for treatment of plantar fasciitis. The annual cost of treatments for plantar fasciitis is estimated to be between $192 and $376 million dollars. The etiology of this condition is multifactorial, and the condition can occur traumatically; however, most cases are from overuse stresses.
Causes
The cause of plantar fasciitis is poorly understood and is thought to likely have several contributing factors. The plantar fascia is a thick fibrous band of connective tissue that originates from the medial tubercle and anterior aspect of the heel bone. From there, the fascia extends along the sole of the foot before inserting at the base of the toes, and supports the arch of the foot. Originally, plantar fasciitis was believed to be an inflammatory condition of the plantar fascia. However, within the last decade, studies have observed microscopic anatomical changes indicating that plantar fasciitis is actually due to a non-inflammatory structural breakdown of the plantar fascia rather than an inflammatory process. Due to this shift in thought about the underlying mechanisms in plantar fasciitis, many in the academic community have stated the condition should be renamed plantar fasciosis. The structural breakdown of the plantar fascia is believed to be the result of repetitive microtrauma (small tears). Microscopic examination of the plantar fascia often shows myxomatous degeneration, connective tissue calcium deposits, and disorganized collagen fibers. Disruptions in the plantar fascia's normal mechanical movement during standing and walking (known as the Windlass mechanism) are thought to contribute to the development of plantar fasciitis by placing excess strain on the calcaneal tuberosity.
Symptoms
The major complaint of those with plantar fasciitis is pain and stiffness in the bottom of the heel. This develops gradually over time. It usually affects just one foot, but can affect both feet. Some people describe the pain as dull, while others experience a sharp pain, and some feel a burning or ache on the bottom of the foot extending outward from the heel. The pain is usually worse in the morning when you take your first steps out of bed, or if you've been sitting or lying down for a while. Climbing stairs can be very difficult due to the heel stiffness. After prolonged activity, the pain can flare-up due to increased inflammation. Pain is not usually felt during the activity, but rather just after stopping.
Diagnosis
Your doctor may look at your feet and watch the way you stand, walk and exercise. He can also ask you questions about your health history, including illnesses and injuries that you had in your past. The symptoms you have such as the pain location or when does your foot hurts most. Your activity routine such as your job, exercise habits and physical activities preformed. Your doctor may decide to use an X-ray of your foot to detect bones problems. MRI or ultrasound can also be used as further investigation of the foot condition.
Non Surgical Treatment
Most doctors recommend an initial six- to eight-week program of conservative treatment, including Rest, balanced with stretching exercises to lengthen the heel cord and plantar fascia. Ice massage to the bottom of the foot after activities that trigger heel pain. Avoidance of walking barefoot or wearing slippers or sandals that provide little arch support. A temporary switch to swimming and/or bicycling instead of sports that involve running and jumping. Shoes with soft heels and insoles. Taping the bottom of the injured foot. Nonsteroidal anti-inflammatory drugs (NSAIDs), such as ibuprofen (Advil, Motrin and other brand names), or acetaminophen (Tylenol) for pain. Physical therapy using ultrasound, electrical stimulation with corticosteroids or massage techniques. If this conservative treatment does not help, your doctor may recommend that you wear a night splint for six to eight weeks. While you sleep, the night splint will keep your foot in a neutral or slightly flexed (bent) position to help maintain the normal stretch of the plantar fascia and heel cord. If the night splint doesn't work, your doctor may inject corticosteroid medication into the painful area or place your foot in a short leg cast for one to three months. Shock wave therapy, in which focused sound energy is applied to the sore heel, may be recommended for plantar fasciitis. The shock waves are intended to irritate or injure the plantar fascia to promote healing. The overall benefit of this approach is uncertain. Other therapies that have been tried include radiation therapy and botulinum toxin injections. But their effectiveness is unclear. If all else fails, your doctor may suggest surgery. But this is rare, and surgery is not always successful.
Surgical Treatment
Although most patients with plantar fasciitis respond to non-surgical treatment, a small percentage of patients may require surgery. If, after several months of non-surgical treatment, you continue to have heel pain, surgery will be considered. Your foot and ankle surgeon will discuss the surgical options with you and determine which approach would be most beneficial for you. No matter what kind of treatment you undergo for plantar fasciitis, the underlying causes that led to this condition may remain. Therefore, you will need to continue with preventive measures. Wearing supportive shoes, stretching, and using custom orthotic devices are the mainstay of long-term treatment for plantar fasciitis.
Stretching Exercises
Calf stretch. Lean forward against a wall with one knee straight and the heel on the ground. Place the other leg in front, with the knee bent. To stretch the calf muscles and the heel cord, push your hips toward the wall in a controlled fashion. Hold the position for 10 seconds and relax. Repeat this exercise 20 times for each foot. A strong pull in the calf should be felt during the stretch. Plantar fascia stretch. This stretch is performed in the seated position. Cross your affected foot over the knee of your other leg. Grasp the toes of your painful foot and slowly pull them toward you in a controlled fashion. If it is difficult to reach your foot, wrap a towel around your big toe to help pull your toes toward you. Place your other hand along the plantar fascia. The fascia should feel like a tight band along the bottom of your foot when stretched. Hold the stretch for 10 seconds. Repeat it 20 times for each foot. This exercise is best done in the morning before standing or walking.